Fysio Be Boulder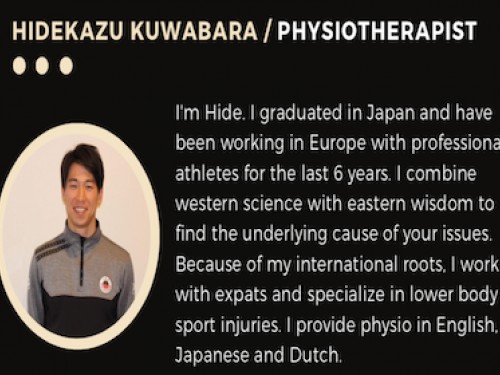 ART OF PHYSIO
HIDEKAZU KUWABARA
I'm Hide. I graduated in Japan and have been working in Europe with professional athletes for the last 6 years. I combine western science with eastern wisdom to find the underlying cause of your issues. Because of my international roots i work a lot with expats. I provide physio in English, Japanese and Dutch.
GET YOUR OPTIMAL BODY
MOVE BETTER, FEEL BETTER, PERFORM BETTER!
Pain free quickly
Our goal is to get you where you want to be as quickly as possible. And that is often faster than you think!
Support on your training
When your muscles and joints work better, you perform better and the risk of injury is smaller.
Checkups
Prevention is key. Regular checkups prevent small injuries and aches from becoming problematic. This way you can continue training for longer without complaints.
Vanaf nu elke week fysiotherapie bij Be Boulder!
Donderdag 11 augustus start Hide met zijn sessies. Hij zal van 19:00 tot 21:00 een aanspreekpunt zijn voor iedereen die met een fysieke klacht loopt. Ook zal hij in sommige gevallen direct een eerste behandeling kunnen geven.
De andere avonden deze maand waarop je Hide kan zien zijn woensdag 17-08 en woensdag 24-08. Beide avonden zal hij wederom van 19:00 tot 21:00 werkzaam zijn.